Beach Boys Reunion Tour Kicks Off In Uncanny's Backyard
By DJ M on February 15th, 2012
In Brian Wilson/B. Boys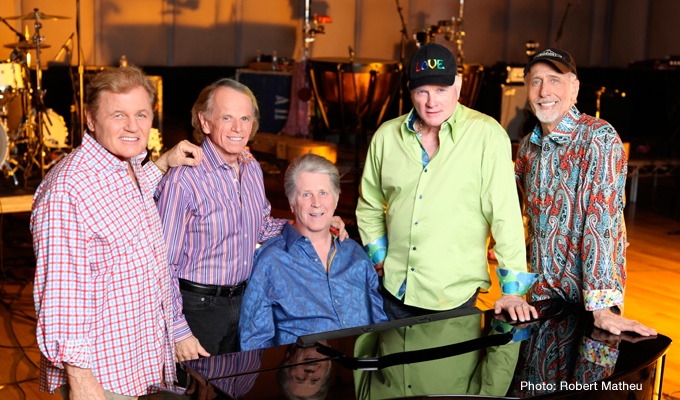 BILLBOARD "Brian Wilson, Mike Love, Al Jardine, [Bruce Johnston, David Marks] and the rest of the gang will reunite for their 50th anniversary tour starting April 24 in Tucson, AZ, and wrapping three long months later on July 15 in Stateline, NV."
First Uncanny's web host was hacked and we were down for awhile. Then I splurged on all of the SMiLE goodness that was unleashed unto the world and I was too burned out on Beach Boys to blog about them. My mind (and pocket book) turned to other record collecting interests: avant-garde jazz, experimental music, acid-folk, free improvisation, etc. Then today I see that the Beach Boys reunion tour is kicking off in Tucson, AZ, the town where I live! So, I guess that means that the BBs are back on my musical radar screen.
Technically, this concert is NOT happening in Tucson. In fact it's not happening in Arizona or even the United States of America. In reality, it's taking place at the Anselmo Valencia Tori Amphitheater which is on the Pascua Yaqui Tribe's Reservation, which is sovereign territory. Not to worry, the reservation, and the amphitheater, are right next door to my current home Tucson. And if you really have too much fun, fun, fun and get in trouble with the tribe's police, I'm an attorney authorized to practice in the Pascua Yaqui Tribal Court.
Are there any other Beach Boys fanatics planning on attending the Tucson show? If there's enough interest, perhaps we can set up a pre-show meet and greet to begin the festivities early? Drop me a line if you are so inclined: uncannybeachboys@yahoo.com. Hope to see you all there!
Trackback address for this post
No feedback yet

Comment feed for this post