Beach Boys' Bruce Johnson Gabs About Gadgets
By DJ M on May 12th, 2008
In Brian Wilson/B. Boys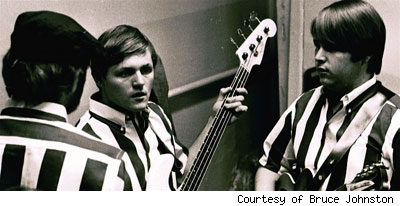 SWITCHED What gadgets do you always bring with you to the set?
I always travel with my MacBook and tons of DVD's. I plug in my Apple Airport Express in order to be wireless in hotel rooms. I video chat via AIM/AOL with my four sons when I'm touring in the Beach Boys world of wonder. I suppose I should add an iPod one of these days but I'm always playing my iTunes while I work on my MacBook (listening through very cool Bose noise cancellation headphones).
What cell phone do you have right now and what do you love/hate about it?
I have a reliable clunky low tech and steam-powered year-old Nokia....I can talk, text, pick up messages and not take fuzzy pictures....Perfect for an old surf guy.
Who's the last person you sent a text message to and what was it about?
My recent text was from my 25 year old son Justin telling me about his new job in corporate strategic planning at a major Las Vegas hotel group (recent MBA paid for by Dad's surf music career...Thanks Mike & Brian!). One more thing: Justin also texted me to send him money for unforeseen 'expenses.'
Where do you go (site or service) pretty much every time you get online?
I go to AOL to see if I still have a friend or two & then I camp out on Google (the world's Ouija board!).
What annoys you most about your iPod, cell phone, or laptop (or any other gadget)?
I love having an iPod...I dislike dropped cell phone calls...but I wish I could marry AOL & also marry my MacBook! I'm not really annoyed at much except for having to choose between a Democrat and Republican soon! Hmmm....I should probably write in Christina Aguilera on the ballot.
Name one thing you wish your iPod/cellphone/laptop (any gadget) could do that it doesn't do now?
I wish my technology could help me figure out a way to create a workable and realistic U.S. flat tax.
What upcoming gadget can you not wait to get your hands on?
I'd like a gear in my car that says "Home, no tickets" after a vodka martini.
You're stranded on a desert island: What gadget do you bring?
Stranded on a desert island? I'd have a water maker, sun block, and a satellite phone (powered by solar cells). Also, I'd have a surfer girl there to keep me company.
Tell us what's the most-played song or artist on your iPod?
As I'm still without an iPod but listening to iTunes...anything recorded after 1954 by Frank Sinatra is always at the top of my playlist. Remember, I was born before guys wore untucked dress shirts and used four letter words in front of girls. FYI: I also check out tunes on AOL Radio.
BlackBerry, Sidekick, or Treo?
A Blackberry, Sidekick, or Treo won't be in my life 'cuz my fingers are too large and my eyes require atomic glasses these days.
Are you getting an iPhone-if so, why?
Not yet. I kinda like using my cell phone but I also chat over AIM/AOL via camera or voice on my MacBook. For now that's all I really need.
What's the longest time you've ever spent playing a video game in one sitting and what game was it?
I do not play video games. I'm usually working with ProTools and the MacBook in my studio trying to chase one last elusive songwriting hit before I retire to only surfing (and I'm serious about the waves).
Trackback address for this post
No feedback yet

Comment feed for this post