Jason Brewer and the Explorers Club are not The Beach Boys-they just sound like them
By DJ M on December 10th, 2008
In Miscellaneous Music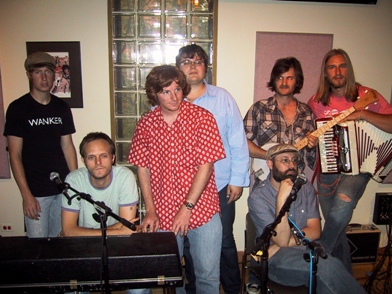 CHARLESTON CITY PAPER "According to [Jason] Brewer, melody 'is just not present in pop music anymore. And it bugs the crap out of me. Pet Sounds opened up this thing in my brain — singing, vocals, vocal groups — that's what groups my age don't do. That's where I can get an edge with music.'"
This is one of the most interesting, and in depth, articles about the exciting band The Explorers Club. Some of the more intriguing tid-bits include: Brewer is collaborating with former Brian Wilson associate Andy Paley; The Explorers Club is getting some unofficial management help from Marc Nathan, a senior A&R director at Capitol Music.
I think that The Explorers Club debut album, "Freedom Wind," was one of the best releases of 2008. Check out our previous posts about The Explorers Club.
Trackback address for this post
No feedback yet

Comment feed for this post