Learn about The Beach Boys' 'Summer Days' album cover
By DJ M on July 30th, 2010
In Brian Wilson/B. Boys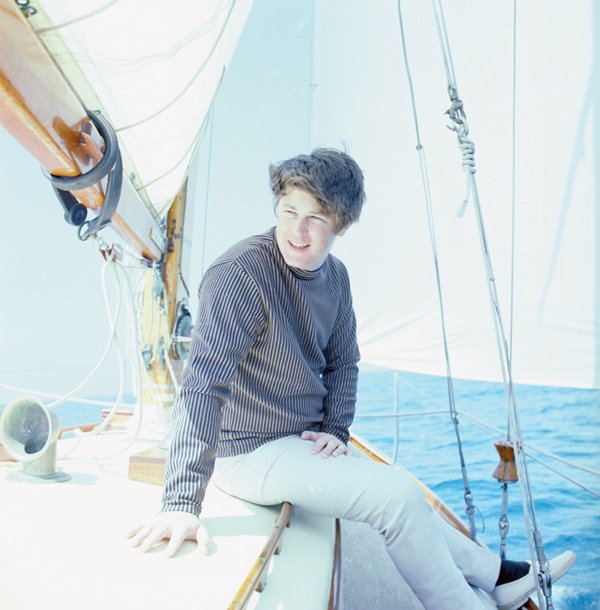 GOLDMINE MAGAZINE Bruce Johnston remembers, "I couldn't be on any Beach Boys album covers… I was the new kid on the block on the 'Summer Days' album, and I went to the boat, and I was standing next to the cameraman [Ken Veeder] while they were taking shots for that. I was invited to come to the vocal sessions that were the start of 'Summer Days.' I wound up singing on the whole album. Brian loved to add textures, so I was considered another texture in his palette. The first sounds out of my mouth were the answers to the second lead on 'California Girls'."
GOLDMINE MAGAZINE Q & A w/ Al Jardine:
Let's discuss the songs.
Al Jardine: "The Girl From NY City" was a Beach Boys version of the Ad-Libs' song "The Boy From NY City" from earlier in the year. This had a very happy-go-lucky feel to it. I think the inspiration for "Amusement Parks U.S.A" and "Salt Lake City" [both] came from the Salt Lake City Lagoon that we loved to play every year. It was a magical time. It was like being in a time warp (I think). It felt like we were back in the 1940s and '50s doing these big ballroom dances, which were so popular in that era. People actually danced to the music, they didn't sit and listen.
We set attendance records every year … it became an annual affair. That's the kind of vibe we were having with our fans and [even] the promoters at that time. Everybody was pretty happy with The Beach Boys. It was reciprocal feeling, and we always set attendance records. Bill Hesterman was the deacon in the Mormon Church — he never prophet-eltized (sic) or tried to push his particular faith on us. He was just a normal guy with a great radio voice and just promoted the heck out of The Beach Boys. That spilled over to the promoting of the Lagoon.
In 1968, Bill took us out to the Salt Flats out there at another old ballroom called the Salt Palace that had since — literally — started to fall into the Salted Sea in the Great Salt Lake. In the 1940s, there was a dance hall out there. The lake shrank away and Bill thought it would be a great place to have pictures taken. So we were sitting on pier pylons and goofing around in the sand out there. You can imagine that the Salt Palace was a hell of a place, and it must have really rocked… The Lagoon was our Salt Palace.
Everything was heading in a real positive direction in 1965. Did you sense that the music you were recording in the studio represented the crest of music that would still stand up today?
Jardine: We were fundamentally just keeping up with the pace of the productivity. You could feel it growing at an accelerated rate. Brian was always waiting for us to come home from touring. He got inpatient and began experimenting with other musicians. This was the turning point.

What do you remember about recording "Help Me Rhonda?"
Jardine: I have no memory of the first version of the "Today" version album version, except that I thought it was odd because Brian kept messing with the fader… It went loud then soft, then loud and soft… and I thought, "This is never gonna work." For the single we had a highly charged session. All the families came and sat around with refreshments. I remember sitting out in the studio listening to the guys singing their background parts on playback. It was hard articulating certain rhythms that Brian wanted, and I heard it a little differently. I stretched out "Rhonda you caught my eye…" Then Murry Wilson would butt in, totally take over… Ultimately, the song went to No. 1.
"California Girls" is a monster song. Carl played the 12-string through the board. Brian and I discussed how incredible that sound was. We got a very special sound by isolating Carl from the band. I used the same technique in 1979 for the intro for "Lady Lynda."
Brian thinks he sounds like a girl on "Let Him Run Wild." What do you think of it?
Jardine: I loved it. That was a great production with the Wrecking Crew. It's a wonderful arrangement from Brian. He started to up the ante… Listen to that horn chart; it's pretty heavy. Brian would write the parts out himself the night before and he'd be all ready to go the next day.
"You're So Good To Me" has a bit of a Motown/Beatles vibe.
Jardine: I think The Beatles picked more up from us. I remember how hilarious that session was … Brian would have us in the studio as soon as we returned from the road, because he was so impatient to get us back in the studio. We started laughing around the microphone so hard that I couldn't stop laughing. The actual muscular requirement to sing the "la la la la la la la's" made my tongue start to freeze up — literally — from the exertion after being on the road for so many months. It was like doing 10 extra wind sprints after a football practice. It was one of the few times that I couldn't finish my part. It's so funny, and such a good memory to have. I completely lost control of myself and fell on the floor laughing.
On "Summer Means New Love" you hear that "Pet Sounds" is just around the corner.
Jardine: You sure do.
What about "I'm Bugged At My Ol' Man"?
Jardine: That's a total throwaway… Sometimes when you don't have enough material for an album there's always a clunker. There's obviously some psychological significance too, because he was really bugged at Murry. It's just Brian venting.
"And Your Dreams Come True"?
Jardine: That's a return to the Four Freshman on that one. That comes from the "Baa-Baa Black Sheep" melody. We used to practice our harmonies on that song… That and "Their Hearts Were Full Of Spring." We used to love singing that one. That's brought back some memories… Boy is that a great arrangement! It's a beautiful extrapolation of total quality. We never sang that one together after that. I could write up an arrangement real quick and do it with my band. I still remember all the parts.
Trackback address for this post
No feedback yet

Comment feed for this post