MATHEW & SUSANNA GET CLOSE "UNDER THE COVERS"
By DJ M on April 24th, 2006
In Miscellaneous Music
Matthew Sweet talks to SUICIDE GIRLS about "Under The Covers Vol. 1," his recently released collaboration with Susanna Hoffs (The Bangles). The album consists of strictly cover versions, including tunes by: The Beach Boys, the Velvet Underground, Love, the Bee Gees and many more. The backing musicians include VAN DYKE PARKS, IVAN JULIAN (Richard Hell & The Voidoids) and RICHARD LLOYD (Television).
Matthew Sweet: My very favorite studio in LA, which most recently was called Cello used to be the western side of United Western Studios. That's where they made all these classic recordings like Beach Boys and Sinatra records. One of my favorite, if not my favorite engineer in the whole world, Jim Scott, worked only in those rooms and that studio is gone. They couldn't keep it alive because of the advent of home recordings. The quality of which has gone up to where you can do a really good recording at home. For us it meant not having the pressure of a big budget.
Daniel Robert Epstein: I read that you and Sue each had a list of songs you wanted to do and both of you had the same song at the top. That's bizarre.
Sweet: That was really bizarre. It was "He May Call You Up" by the Left Bank. It's only a really well known song to people who already know the Left Bank really well. It was an uncanny thing that set us off on a really good tone.
DRE: [laughs] What did having Van Dyke there do for you?
Sweet: Van Dyke is an amazing guy. I did a lot of work with him on a record of mine called Living Things that came out a couple years ago. On this record he just did a couple of songs so he came over on one day and recorded. I've known him a long time and he isn't just a musical genius. He's beyond that, he's just a genius in general. We didn't want to have it slip by without having him work on the record. I'm sure we'll be using him around more because I'm producing a solo album for Sue and I'll get him to do some stuff on that as well.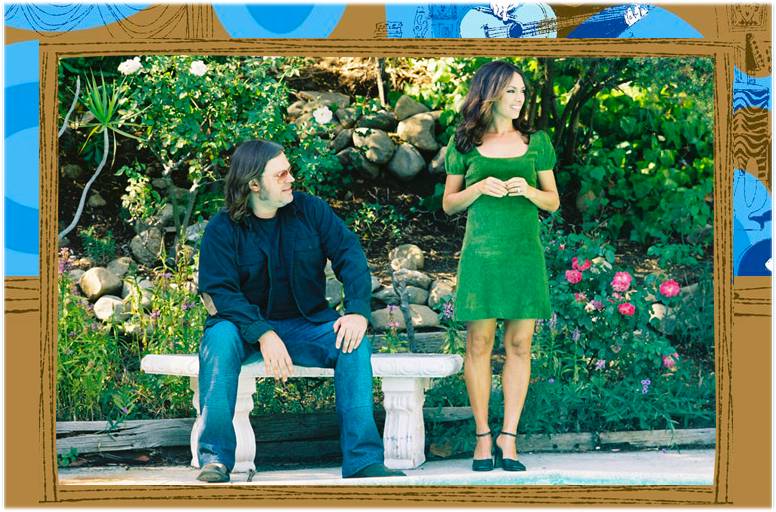 DESERTNEWS "We didn't want any pressure when we were making this album," Matthew Sweet said by phone from his Los Angeles home. "In fact, we didn't have a list of songs we wanted to cover. Sure, we had friends give us CDs and suggestions, but there wasn't really a long list of songs we had to choose from."
"There were a couple of songs where Su had some reservations of recording her version of songs," said Sweet. "The originals are great, and it seemed to her that she couldn't live up to the expectations of the original singers — Sandy Denny for instance. Su was worried about recording Fairport Convention's 'Who Knows Where the Time Goes?' because Sandy's voice was perfect. But when Su recorded it, she made the song her own."
"I don't know why I change things around when I do covers on my own," Sweet said with a laugh. "It might be something in my mind when I hear a cover song, I think to myself, 'Oh, who is this making a mess of this song?' But when Su and I decided to do this, we wanted to keep the original arrangements because that's what made these songs good."
"We recorded all the songs in my home studio," said Sweet. "And we didn't feel any pressure until last November when the record company said, 'Your deadline is the end of December.' But we did it and we love it."
CLEVELAND PLAIN DEALER
BLOGCRITICS
"Under The Covers Vol.1"is released by SHOUT FACTORY.
Trackback address for this post
No feedback yet

Comment feed for this post