Mike Love hate
By DJ M on May 18th, 2006
In Brian Wilson/B. Boys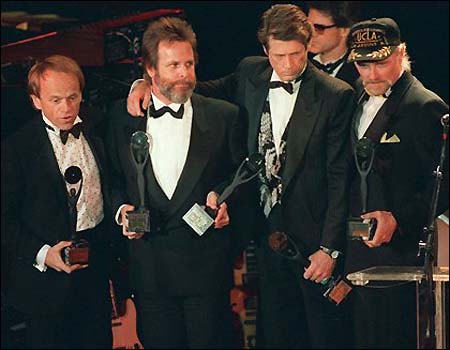 Here's a transcription of Mike Love's rant at the Rock & Roll Hall of Fame induction ceremony for the Beach Boys in 1988:
"I think it's wonderful to be here tonight, but I also think it's sad that there are other people who aren't here tonight, and those are the people who've passed away...those are the obvious ones. But the other not-so-obvious ones are people like Paul McCartney who couldn't be here tonight because he's in a lawsuit with Ringo and Yoko- that's what he said in a telegram to some high-priced attorney in this room, ya know? Now, that's a BUMMER because we're talking about Harmony in the world. If we can't get it together in America and in England and harmony within our groups...I mean, believe it, you can believe it...the Beach Boys have their own (unintelligible) or whatever you call it, squabbles, but that's a BUMMER when MS. ROSS can't make it, ya know? The Beach Boys'll continue to do...we did about a hundred and eighty performances last year. I'd like to see the "MOPTOPS" match that-! I'd like to see MICK JAGGER get out on the stage and do "I Get Around" vs. "Jumpin' Jack Flash" ANY DAY NOW! Now, a lot of people are gonna go outta this room tonight thinking that Mike Love is crazy...well, they been sayin' that for years! Ain't nothin' new about that! And now we're (slurring gets more pronounced) ssssittin' in this room with all this glitterati of the glissando...all 6% of us...and we're hasslin', we're fighting...(mumbles) squabbles, messin' around...what I want to see is this whole room recognize that there is One Earth here and I want us to do something FANTASTIC with all of this talent and this wonderful spirit and soul, and I'd like to see some people KICK OUT THE JAMS, and I challenge "The BOSS" to get up onstage and jam..!"
[Note: At this point, musical director Paul Shaffer plays the Theramin intro to 'Good Vibrations'...he might just as well have played the Twilight Zone Theme. Love continues to rant.]
"I wanna see BILLY JOEL...see if he can still TICKLE IVORIES...lemme
see! I know MICK JAGGER won't be here tonight, he's gonna have to stay in *burp* England. But, I'd like to see us in the Coliseum and he in Wembley Stadium, 'cause he's always been CHICKEN**** to get on stage with the Beach Boys...!" [Shaffer then tries to drown Love out by striking up the band, which inspires him to conclude] "...and we're
gonna do it for World Peace and Love and Harmony. Yeah! Alright!"
Trackback address for this post
No feedback yet

Comment feed for this post