Shitkatapult Drops A Load Of Musick
By DJ M on October 9th, 2006
In Electronic Music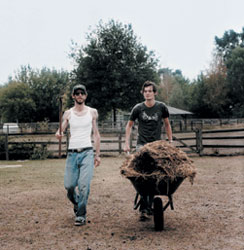 Yes, the main focus of this blog was, is and will always be Brian Wilson and the Beach Boys. However, since things have been kinda quite on the Beach Boys/Brian Wilson front, we've been posting on topics other than our main focus. If you need your BW/BB fix pure & clean, follow the link on the right side of your screen to the Brian Wilson/B. Boys category. Now, on to our feature presentation:
SHITKATAPULT is one of Germany's best electronic music labels. The Katapult, run by musicians in arms T. Raumschmiere and Apparat, is best known for hard jackin' techno. Some of the label's most hardcore tracks have come out on its MUSICK sub-label. Until now, these tracks have only been available on vinyl. Well, wouldn't you know it, the good folks at the Katapult have compiled 12 of the MUSICK tracks on a handy compilation called "MUSICK to play in the club."
With titles like "Kill Yourself On The Dancefloor Tonight," these tracks are definitely not for the faint of heart. But, if you love slammin', 4 on the floor heavy metal techo, step right up! There's even a bonus 45 min. MP3 mix of the tracks by DJ Flush on the same CD, if you just can't decide which track to check out first. For those not lucky enough to receive a promo, MUSICK is released to the masses on October 15. Enjoy!
Here's the track list:
1. DRUGBEAT – Kill Yourself On The Dancefloor Tonight
2. JERRY ABSTRACT – Mudtsmut
3. QUASIMODO JONES – Love Commando (TOMAS ANDERSSON's loft rmx)
4. DJ FLUSH – Baila redux
5. ELASTIC HEADS – Kickin!
6. PETER GRUMMICH – Breathe
7. DAS BIERBEBEN – Staub (ROBAG WRUHME rmx)
8. MAGNUM 38 – Alligator
9. SCAPEGOAT – Anticipate
10. T.RAUMSCHMIERE vs. MOTOR – Krank im Hirn
11. FENIN – Batteria
12. HOLZ – Glut
And here are a few links which may help to clue in the clueless: ENERGYLAB, RESIDENT ADVISOR, BBC, DISCOGS, MYSPACE.
Trackback address for this post
No feedback yet

Comment feed for this post