V/A – "The In-Kraut Vol. 2; Hip Shaking Grooves Made In Germany 1967-1974"
By DJ M on October 8th, 2006
In Miscellaneous Music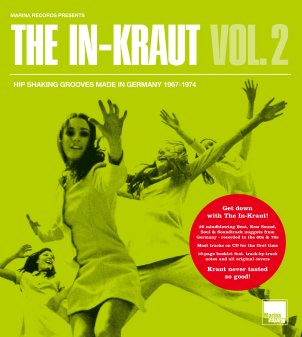 If you enjoy listening to obscure Beat, Now-Sound, Soul, Funk and Soundtrack tunes from the late '60s and early '70s, this is definitely the compliation for you. Totally groovy, totally obscure and totally hip! Most of the tracks appear here on CD for the first time.
"The In-Kraut" was compiled by STEFAN KASSEL (who also designed the packaging and wrote the liner notes) with Frank Jastfelder. It's on the German MARINA label.
1. Paul Nero – This Is Soul ('68)
2. Hugo Strasser – Black Night ('71)
3. Christer Bladin – Wildkatze ('74)
4. Ambros Seelos – Swingle Beat ('68)
5. Tommy Haggard Orchestra – Pealed Tomato ('68)
6. Hazy Osterwald Jet Set – Swinging London ('72)
7. Charly Antolini's Power Dozen – Nofretete's Headache ('72)
8. James Last – Soul March ('69)
9. Mary Roos – Blauer Montag ('70)
10. Klaus Weiss Orchestra – Get It On ('72)
11. Hildegard Knef – Holiday Time ('71)
12. The Dometown Gang – Rock In ('68)
13. Rolf Wilhelm – Do It Yourself ('71, previously unreleased)
14. Joy & The Hit Kids – Run Away ('69)
15. Dieter Reith – No No No ('72)
16. Carlos Fendeira – Gimmi Moro ('69, previoulsy unreleased)
17. Kai Rautenberg & Orchester Jurgen Ehlers – Moon Mission ('69)
18. The Inner Space – Kamera Song ('68)
19. Uli Roever – Heisser Sand Auf Sylt ('67)
20. Hase Casar – Eine Kleine Hasenmusik ('68)
Trackback address for this post
No feedback yet

Comment feed for this post