All New: The Beach Boys- "Surfin' Success"
By DJ M on May 2nd, 2008
In Brian Wilson/B. Boys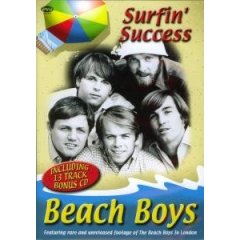 AMAZON Not much info on this yet. The Beach Boys "Surfin' Success" (DVD/CD or CD) is a new documentary of the band. Here's what we've read so far:
"From their arrival at Heathrow to backstage at The Hammersmith Odeon, this film follows the group on their infamous first visit to London. The only American supergroup to rival The Beatles talk us through their early days when three brothers, a cousin and a high school friend began their surfing harmony group. This amazing documentary covers their achievements with 'Pet Sounds' and the difficulties Brian Wilson had with the unreleased 'Smile' album. Brian's 'Teenage Symphony To God' was said to be the greatest unreleased album ever made and in this film Brian describes the making of 'Smile' as 'a hashish-fuelled period of craziness'. The film features many rare & unreleased scenes and the group 'at home' in London. Includes a bonus 13 track CD (also available separately) featuring demos & outtakes from the late '60s as well as a fascinating, 24 minute interview with Brian Wilson & Mike Love."
Trackback address for this post
No feedback yet

Comment feed for this post