Beach Boys/Brian Wilson Promo CD Extravaganza Vol. 3: "Maverick Radio Networks Presents: Brian Wilson – Gettin' In Over My Head Radio Special"
By DJ M on July 5th, 2009
In Brian Wilson/B. Boys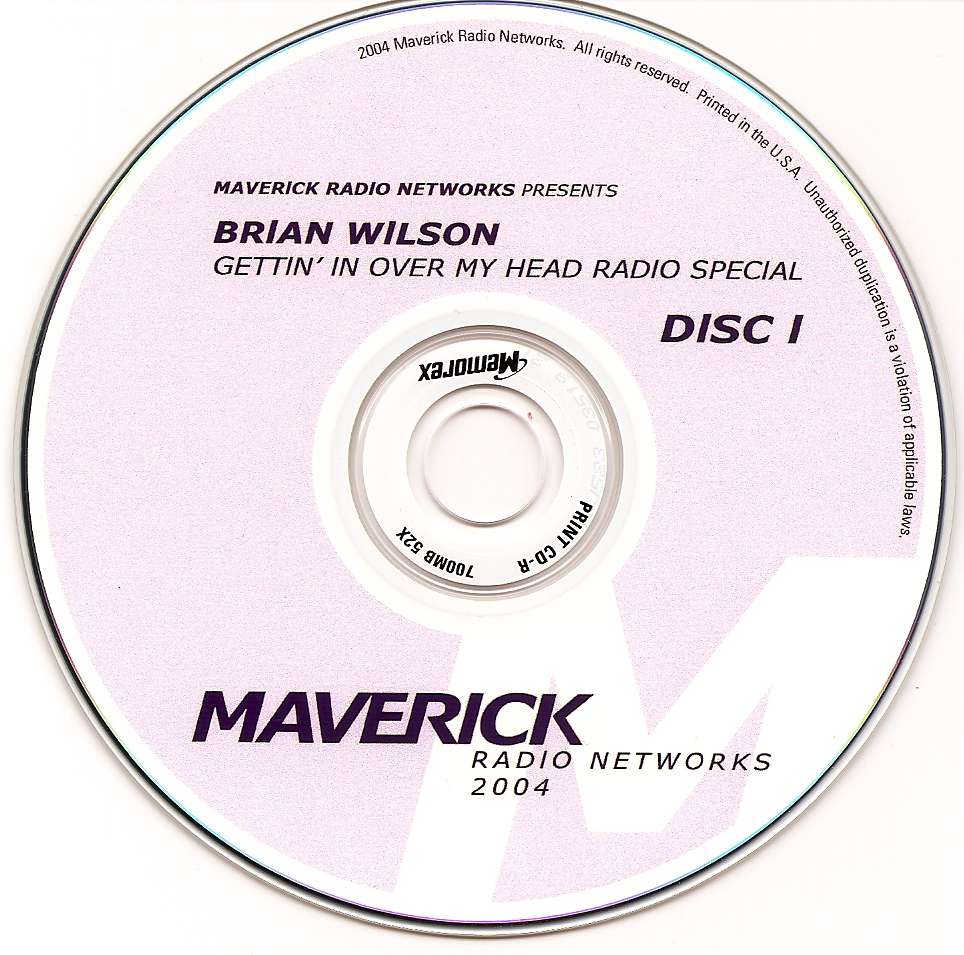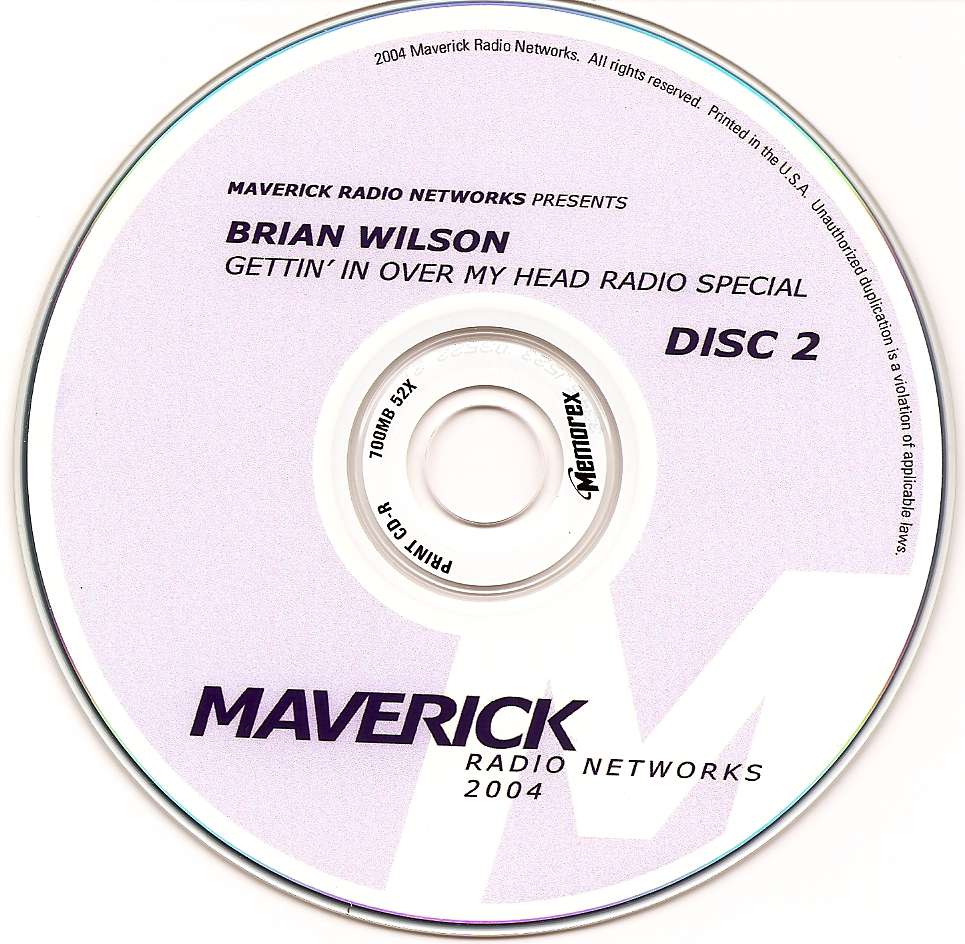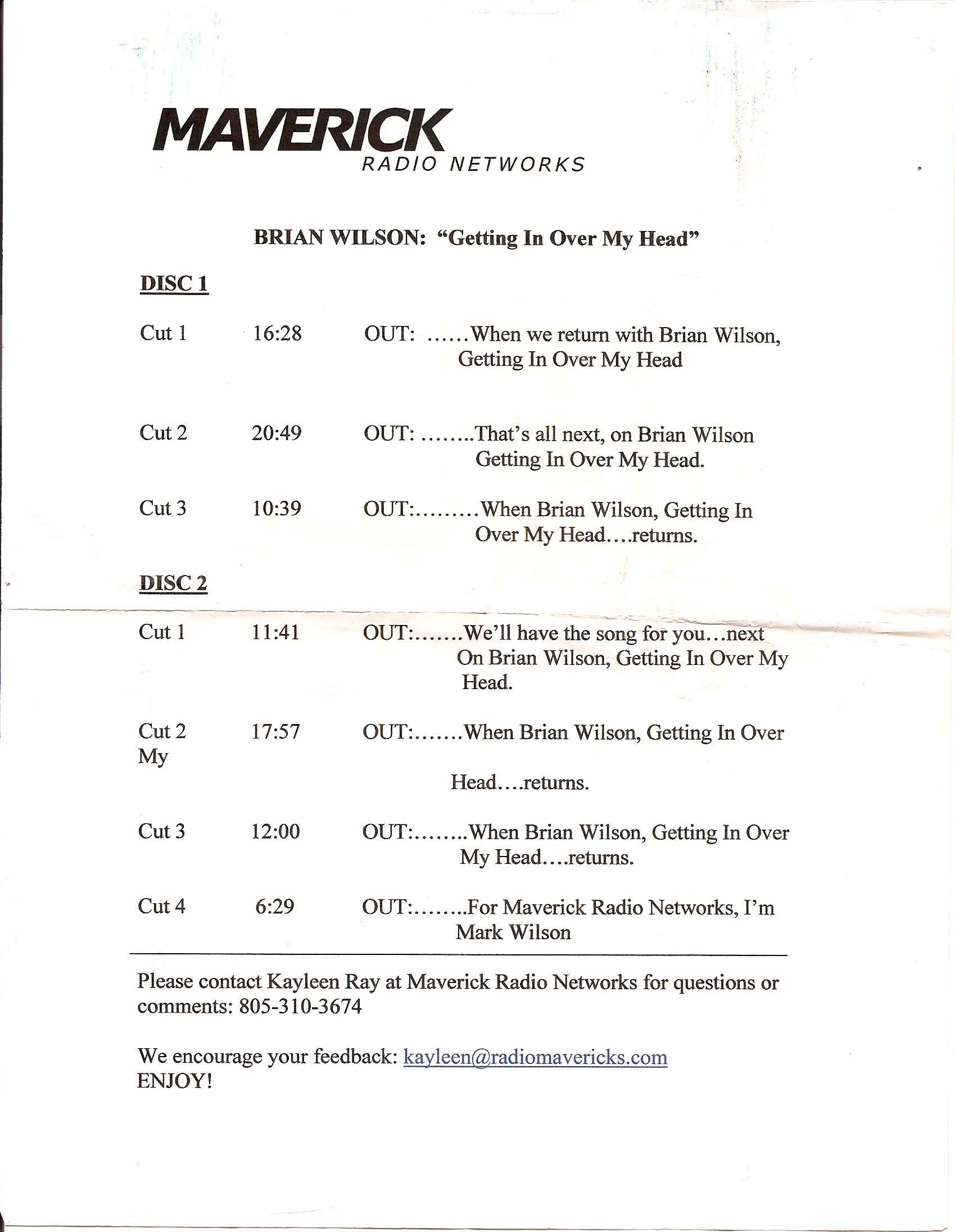 "Maverick Radio Networks Presents: Brian Wilson – Gettin' In Over My Head Radio Special" was a radio special focusing on the release of "GIOMH." (The narrator, Mark Wilson, can be heard saying that the album was "released this month.") It was created by something called the Maverick Radio Networks. A simple Google search turned up very little information about this outfit. MRN either no longer exists or was gobbled up through corporate acquisition. It must have been distributed solely to radio stations affiliated with MRN. Probably no more than a few hundred sets were printed. The set consists of two CD-Rs and a cue sheet. Unlike the record company advance CD-Rs, the printing on the top of these discs is closer to what you'd expect from an "official" release, but still basic and bland. Here's my transcription:
DISC 1
TT- 47:57

CUT 1
After a brief cue, BW and band play the Barenaked Ladies' song "Brian Wilson" for about 45 seconds; then the narration by Mark Wilson (no relation) begins. Mark Wilson says the radio special will include the "world premiere" of a new BW song recorded with his daughters Wendy and Carnie. Next is a short medley of classic Beach Boys songs and some BW solo songs.
And then we hear the first of several excerpts from an interview with BW.
BW: "I'm really pumped about my album. It's been six years since I've done a solo album. It's called GIOMH, and I have three guest artists on it. Paul McCartney, Elton John and Eric Clapton. This album's been in my head for about 6 years and it took us about 4 months of hard work, to make it and create it and do it."
Mark Wilson narration, stock BB/BW history
"Surfin'" plays, '60s version, entire
Mark Wilson narration
"Surfin' Safari" & "409" both play, '60s version, entire
"Surfer Girl" & "In My Room," BW live at the Roxy version, entire
CUT 2
BW: "I met Elton John in 2001 in Radio City Music Hall in NY. He came there to sing 'God Only Knows' with me. He sang a verse and I sang a verse. He was fantastic. We had a good time together. We hit it off real good. We hit it off really, really good. I wrote a song a few years ago called 'How Could We Still Be Dancin'.' And I thought about it. I thought Elton John would be a perfect guy to sing the verses and I would sing the choruses. We sent him a demo of the song and he rehearsed it and practiced it. And when we got to the studio he did it perfectly in 3 takes. It was a real kick."
Question: Does Elton John play piano on it?
BW: "He played Little Richard kind of scat piano, like Billy Joel. I told him, I said, 'Play a little bit like Billy Joel.' He goes, 'What do you mean Billy Joel? I'll play it like Elton John!'"
Q: Can you play a little bit for us?
BW plays piano & sings intro of the song for about 10-15 seconds, then it fades into the studio version of "HCWSBD," entire.
Mark Wilson narration
BW: "The studio has always been a way for me to get away from the world. My solace. It's always been a place of sanctuary for me to go and create music."
"Help Me Rhonda" plays, '60s version, entire
"California Girls," "I Get Around," "Barbara Ann," and "All Summer Long" play, live at the Roxy, entire
CUT 3
BW: "'City Blues' is all about how nothing ever seems to come to no good. The city's so gritty it's a pity. It's not really a really bluesey blues kind of song. It's more of an electric blues that brought a lot of energy to the album, you know. I wrote the song not for him, I wrote the song for me. Melinda and I both thought he would be great for the guitar part on it. I asked him, I said, "Would you like to play guitar on a song called 'City Blues?' And he goes, 'Well sure. I'd love to.' So I brought the tape to England and we went in the studio. And it took him a half and hour. He kept experimenting, he kept trying one thing, and then he'd try up high, down low and he'd try everywhere. And I kept saying, 'You're almost there. We're almost there.' And he goes, 'Wait. I can get it better. I can get it better.' So he kept working and he finally got it perfect."
"City Blues," album version plays, entire
BW: "Andy Paley, my collaborator wanted Carl to sing the lead on the song. So Carl sang the lead. And after he died I replaced the bridge. I got tears, because my brother Carl, I was very close to him. And when he died I felt very bad and so I sang the bridge in place of Carl. It keeps him alive, in a way, in a way it keeps Carl alive and happening. Carl was a gentle soul, he was a very good person. He was probably one of the better singers in the business. He was a really good singer. Carl had a very special, beautiful voice. He had a very versatile voice. He could sing sweet, he could sing funky, he could sing rock n roll, he could sing blues. And he took directions beautifully in the studio. He learned songs very quickly. And he did a very good job on them. So I tell you what, I'll do 'Soul Searchin'' the song Carl Sang."
BW voice & piano, 10-15 seconds, then fade into album cut, entire
DISC 2
TT- 48:08

CUT 1
Intro, Mark Wilson, stock history
"Sloop John B," "Pet Sounds," and "God Only Knows," live at the Roxy, entire
CUT 2
BW: "I just always wanted to have Paul McCartney do a duet with me. So we called up his manager and we asked him if he'd be interested and Paul said yeah, he'd like it. So we flew out and we did a song together."
Q: Did he record his part in LA?
BW: "Yeah, he recorded his part in LA and he did a song called 'A Friend Like You.'"
Q: Why did you choose that song?
BW: "I chose that song because I had a perfect little part for him. (sings) 'A friend like you/a friend like you/you mystify me/you lullaby me.' A simple little part like that. He did that like three times in the song."
Q: Did you have to produce his vocal?
BW: "Yeah, absolutely. I said Paul, 'You're going flat.' And he goes, 'What do you mean, flat?' I go, 'You're going flat, Paul.' And he goes, 'Alright.' And he corrected his flatness."
Q: Did he taken any offense at your telling him he was flat?
BW: "No, no, no. He loved it. He loved every minute of it."
Q: Did Paul play guitar on the record?
BW: "He played guitar on the introduction of the record. He played box guitar. He goes, 'bbbbbrrrrruuuuummmmmmmm!' His box guitar sounded like an autoharp to me a little bit."
Q: I wonder if you'd play a little bit of the song "A Friend Like You."
BW solo piano & voice intro, 10-15 seconds, fades into album cut, entire
Mark Wilson narration
"Good Vibrations," "Until I Die" and "Add Some Music" play, Roxy version, entire
CUT 3
Mark Wilson narration
BW: "Having a wife and 3 beautiful kids has inspired me so much, so deeply in my soul that it reflects itself in the way I sing on my album. It really does. It makes me sing better, it makes me feel better, it makes the album better, it makes everything better."
"World premiere" of BW song with Wendy & Carnie Wilson, new version of "Don't Worry Baby" plays, entire
BW: "This year we're going to take the new album all over Europe, England, Scotland, Sweden. My favorite city is London; because I like the people there. I like the people of London. There's a great energy and a vibe there when we play there."
"Be My Baby," and "Lay Down Burden" play, Roxy version, entire
CUT 4
"Darlin'" and "Kiss Me Baby" both play, Roxy version, entire
Mark Wilson outro
Trackback address for this post
No feedback yet

Comment feed for this post