Beach Boys/Brian Wilson Promo CD Extravaganza: Vol. 2- "Gettin' In Over My Head"
By DJ M on July 4th, 2009
In Brian Wilson/B. Boys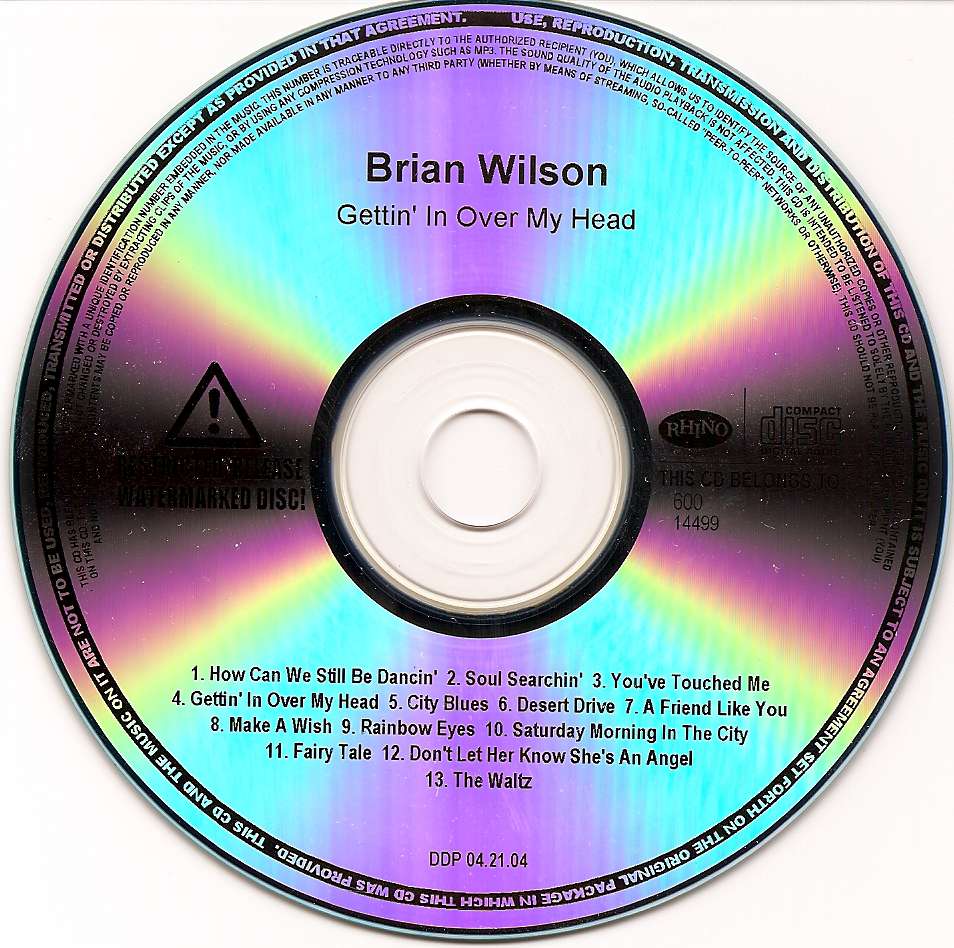 I like "Gettin' In Over My Head" and I'm not ashamed to admit it.
Today I went over to the Smiley Smile message board for the first time in ages, and one of the first messages I came across is by Andrew G. Doe ; he cringes at the mere thought of having to listen to "GIOMH" again for the updated web version of his wonderful book, "Brian Wilson & the Beach Boys: The Complete Guide To Their Music." AGD is one of the Beach Boys/Brian Wilson scholars I most admire. When it comes to dates, locations, names, studios, musicians, etc. I always defer to his research and scholarship. He also has excellent taste when it comes to sorting out the good from the bad Beach Boys/Brian Wilson recordings. I usually concur with his aesthetic opinions. One topic where we differ is "GIOMH." For some reason, AGD heaps particularly vicious scorn upon "GIOMH." While I'm the first to admit that "GIOMH" is far from Brian Wilson's best solo album, I don't think it's quite as bad as AGD feels.
My thoughts/opinions/feelings about the album were formed solely from listening to the music. I know little, and care even less, about any of the behind the scene machinations that may have conspired to prod the release of "GIOMH." I just remember how excited I was when this album came out. I think the release of any new Brian Wilson album is cause for celebration. To be sure, "GIOMH" loses a ton of points for having no real new material. Most, if not all, of the songs were re-treads of old songs that never ended up on official releases. Some of the songs were previously available on bootlegs like "Sweet Insanity" and the Andy Paley sessions. Nevertheless, there are a few gems. I love the songs "Soul Searchin'," "GIOMH," "City Blues," and "Desert Drive." "Soul Searchin'" and "GIOMH" in particular are two of my favorite solo Brian Wilson tunes.
Moreover, the tunes themselves hold up well when performed by other musicians. Solomon Burke's version of "Soul Searchin'" was particularly soul stirring. I usually detest all things Bon Jovi related, but I did enjoy watching Richie Sambora perform "City Blues" at the Musicares tribute to Brian Wilson. It's also cool how other music industry legends, e.g. Eric Clapton, Paul McCartney, Elton John, showed up to support BW.
As for the disc scanned above, this was the advance version sent to music journalists. It's just a simple CD-R. There are some markings that are unique to this kind of advance disc, such as "RESTRICTED RELEASE, WATERMARKED DISC!" And in case you weren't paying attention, they put another exclamation point in a triangle. The disc is even individually numbered, "THIS CD BELONGS TO 600 14499." Presumably, only the record company knows how this numbering system works. All the little printing is just legal mumbo-jumbo and gobbledygook whereby the record company attempts, in vain, to overcome the storied legal first sale doctrine.
Trackback address for this post
1 comment
Comment
from:
Andrew G. Doe
[Visitor]

Ah, the world would be a most tedious place if we all agreed on everything. Maybe I'm wrong about "GIOMH"... but when I got my preview copy, I played it for some weeks, trying to get into it, past the problems of composition, performance, mixing and above all, Brian's truly disinterested vocals. Didn't happen. Who knows, maybe the ComGuide update will make the scales fall from my eyes.
Or maybe... not. :-)
07/05/09 @ 10:12

Comment feed for this post