Beach Boys/Brian Wilson Promo CD Extravaganza Vol. 4: "Pacific Ocean Blue + Bambu"
By DJ M on July 6th, 2009
In Brian Wilson/B. Boys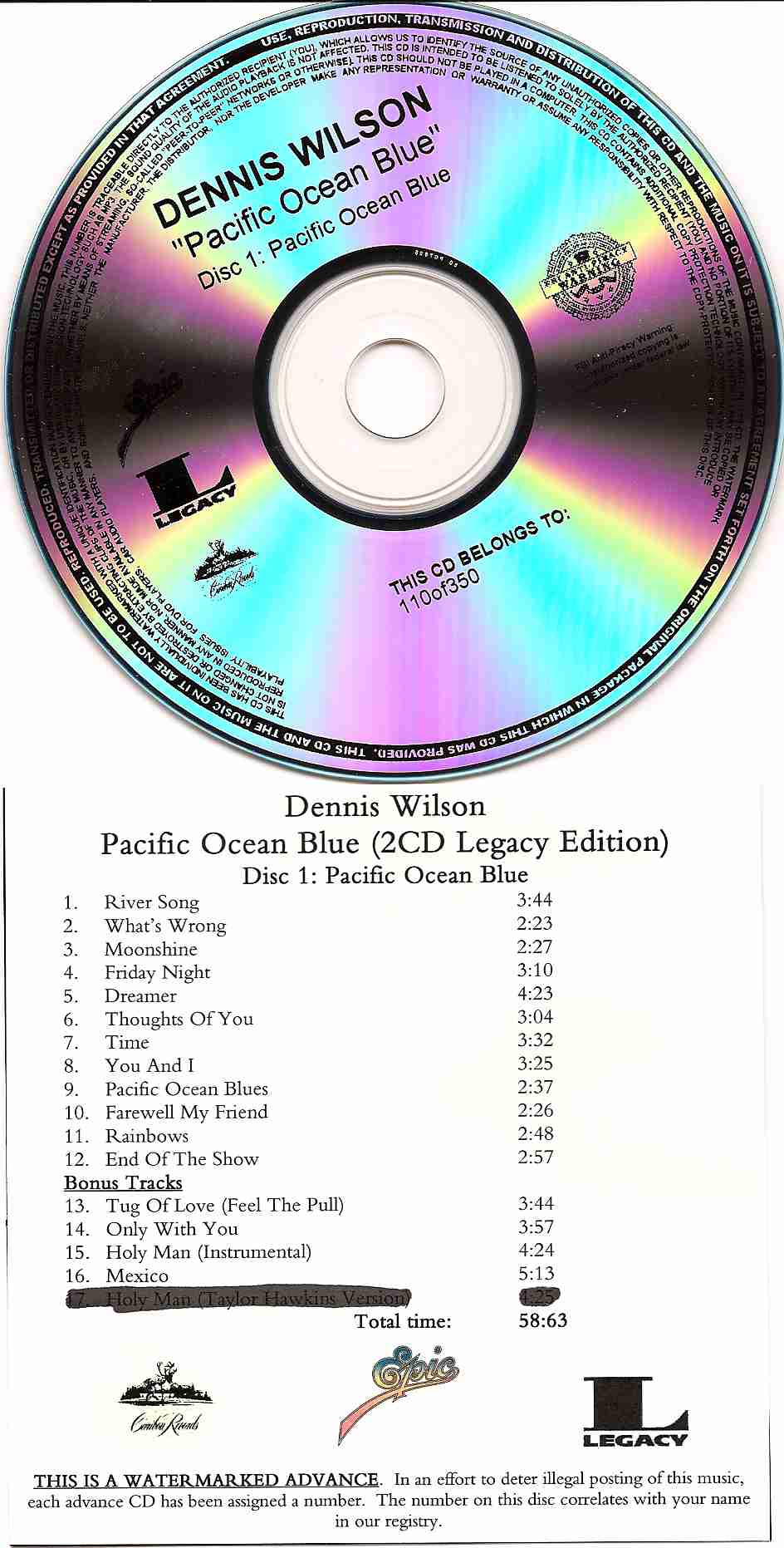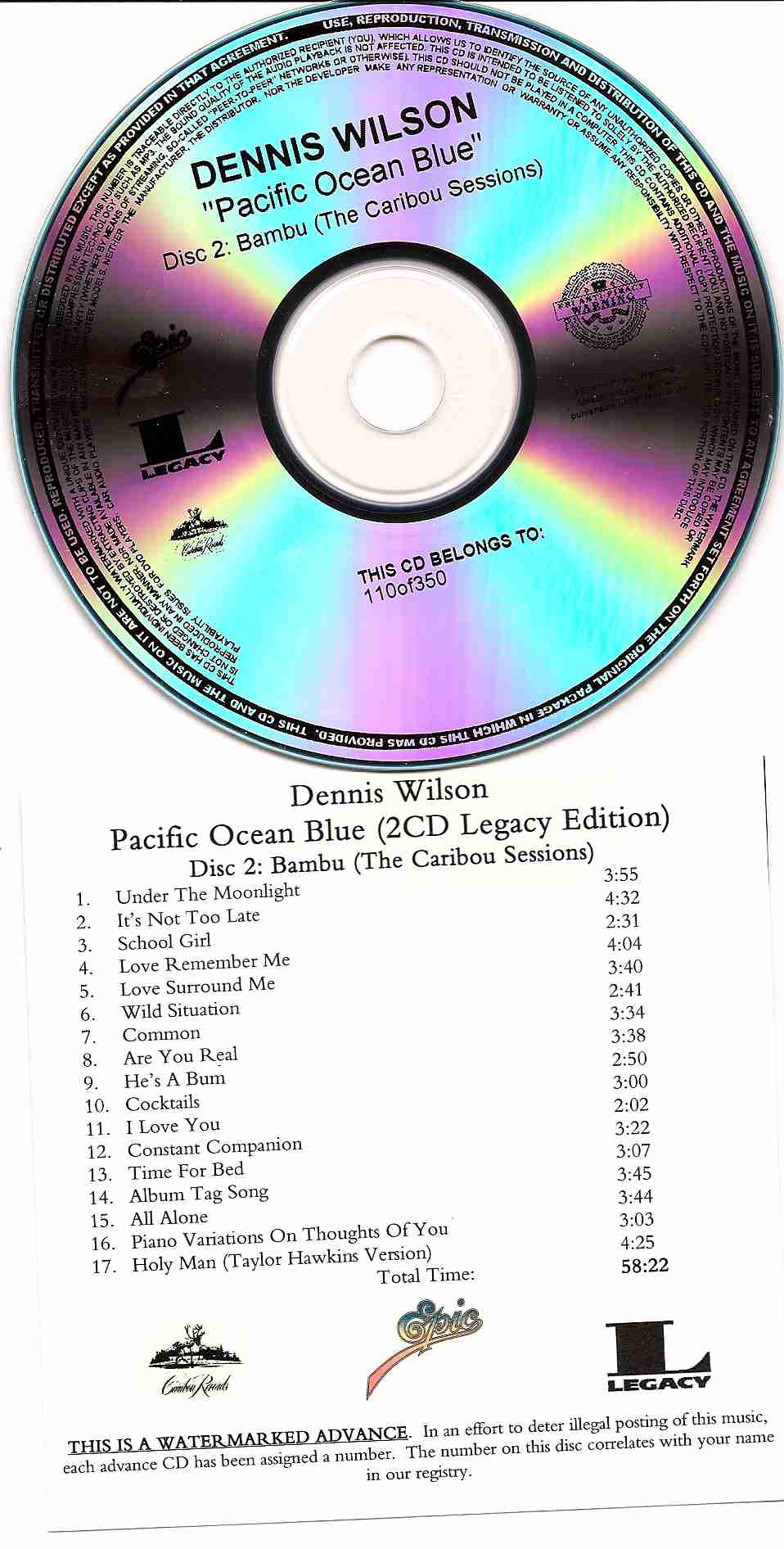 I've already blogged about the "POB/Bambu" promo here and here. Nevertheless, this album deserves repeated attention since it's just a killer. I can still remember the first time I came across "POB/Bambu." It was the early stages of my interest with Brian Wilson & the Beach Boys, ca. 2002, and I had no clue that Dennis Wilson had released a solo album. But I was mad about BW/BB. Every time I walked into a record store the first thing I did was look under "B" for Beach Boys and "W" for Wilson. While browsing through the "W" bin at Kief's Downtown Music I stumbled across a 2 CD-R bootleg that had "POB" on one disc and "Bamboo" (that's how it was spelled pre-official release) on the other. Knowing nothing of their contents, I purchased the discs on a whim and a hunch. From the moment the first few notes of "River Song" flowed out of my speakers I was hooked. Since that moment, "POB/Bambu" has remained one of my most favorite album(s) in the BW/BB cannon. While not quite as sublime as "SMiLE," with "POB/Banum" Dennis gave brother Brian a run for his money.
I was primed when the news circulated that "POB/Bambu" would finally get an official release. Years listening to the mediocre music on my bootlegs had made me eager to hear quality versions of these amazing tunes. (I was never fortunate enough to find an original copy of "POB" on vinyl or the first CD release. I had to settle for a CD-R rip of the official CD and other related bootlegs.) On April 1, 2008, when I finally got the advance promo of "POB/Bambu," I was blown away for a second time. It was almost like hearing the album for the first time. The sound was so much deeper, richer, fuller and majestic than I could have ever hoped for. Even better, there were several tracks I had never heard of, let alone heard on bootlegs.
The promo advance was very spartan. The two CD-Rs and accompanying track lists didn't even come in a jewel case. They came in a flimsy, generic plastic wallet. The track list for disc 1 had a typo and was crossed out in black by the record company before the discs were sent out. The record company also sent with the discs a substantial press packet that contained most of the album/liner notes, press releases from the original release of "POB" as well as several scans of vintage music magazine articles about the album.
For the record, do not assume that because I receive a free, advance promo of an album I don't purchase the album. In fact, the day "POB/Bambu" first hit stores, I was there, money in hand, and purchased a copy the old fashioned way. The same thing can be said for most of the other advance promos I've received through the years. Without exception, if I received an advance promo of a BB/BW album, I also purchased the official release through official channels.
Trackback address for this post
No feedback yet

Comment feed for this post