Brian Wilson Anchors New CD 'WHAT LOVE CAN DO' Set for Release on 429 Records August 4 Legendary Musicians Remake Their Classic Songs & Contribute All New Track All New Wilson Track 'What Love Can Do' First Single To Radio
By DJ M on July 7th, 2009
In Brian Wilson/B. Boys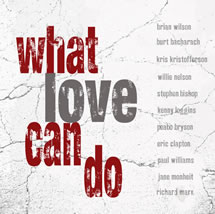 EDIT 1: I'm pretty sure that "What Love Can Do" is just a re-packaged & re-titled version of this disc which came out some time ago.
EDIT 2: 429 Records has a website with more information & song samples
PRNEWSWIRE "429 Records is announcing the release of a one-of-a-kind collection of songs by some of the music world's most creative songwriters. Titled "WHAT LOVE CAN DO," it's a project put together by legendary producer Phil Ramone that brings together celebrated musicians such as Brian Wilson, Kris Kristofferson, Kenny Loggins, Burt Bacharach and many others each of whom have gone back into the studio to recreate one of their all-time hits as well as a brand new song. It's a unique idea where artists, under the creative genius of Phil Ramone, record a fresh take on a timeless classic while also offering an up-to-date example of their artistry. Brian Wilson's remake of "God Only Knows" sparkles next to his all new song and album title track "What Love Can Do" (the first single from the project going to radio) as an example. WHAT LOVE CAN DO will be released on 429 Records on August 4."
"WHAT LOVE CAN DO is more than just a nostalgic look back for the artist and the listener but it's a heartfelt message from each artist involved that their music is more vibrant and evocative than ever. The lineup of artists participating in the project is truly stellar representing the pop, rock, folk and jazz genres."
1) "God Only Knows" Brian Wilson
2) "Un Baile Del Corazon" Stephen Bishop
3) "Your Goodbye" Richard Marx
4) "A Love Song" Kenny Loggins
5) "Sunday Morning Coming Down" Kris Kristofferson
6) "I Still Remember" Burt Bacharach, John Pagano
7) "Rainbow Connection" Paul Williams, Willie Nelson
8) "Hold On To The Nights" Richard Marx
9) "The Wonder" Kris Kristofferson
10) "I'll Remember Your Name" Kenny Loggins
11) "New Music From An Old Friend" Paul Williams, Jane Monheit
12) "Save It For A Rainy Day" Stephen Bishop, Eric Clapton
13) "Alfie" Burt Bacharach, Peabo Bryson
14) "How About Now" Kenny Loggins
15) "What Love Can Do" Brian Wilson
Trackback address for this post
No feedback yet

Comment feed for this post