Brian Says Carnie's "Prettier Than Hell"
By DJ M on April 25th, 2006
In Brian Wilson/B. Boys
On TV's ET, Carnie & Brian Wilson discuss Carnie's debut solo album, "A Mother's Gift: Lullabies From the Heart," a collection of new and old songs that will be in stores on Tuesday, May 2.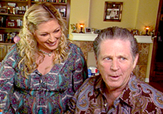 Carnie says that, "I started recording this album about three months after Lola was born. I wanted to do songs that were touching and songs that had a loving message, a message of peace, safety and love."
"The album's very family-oriented," Carnie points out. "The first song we recorded was 'Heaven,' written by my Uncle Carl, and my cousin Justin sings all the harmonies. I also have my sister singing with me and my mother and her group the Honeys."
"This album is really special and people will love it to death," Brian Wilson adds.
"It's the perfect little story of Lola in my womb, and we're just waiting for her to be born," Carnie explains. "It could be about any baby, but it's that anticipation of waiting for your baby to be born."
"[Carnie's] prettier than hell," Brian Wilson says. "I also love the way she sings. And three, I love her patience. She's very patient. She knows good things don't come overnight, and she's easy to work with."
For more of this interview with Carnie and Brian, tune in to tonight's ET.
Trackback address for this post
No feedback yet

Comment feed for this post