THE BEACH BOYS "A VOCAL ELEMENT: LIVE IN 1967"
By DJ M on April 24th, 2006
In Brian Wilson/B. Boys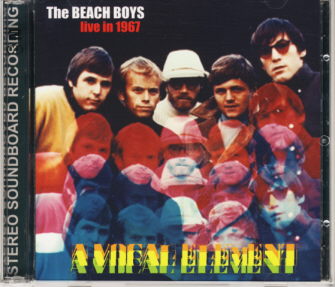 "Welcome to HANG TEN media's second musical vibrations. These 4 exclusive stereo soundboard recordings are from the Beach Boys "Thanksgiving" tour of Nov. 1967. Earlier in the year, "SMiLE" had been abandoned and Brian Wilson had withdrawn even further into recluse. The Beach Boys had dropped out of the Monterey Pop Festival and had lost all credibility with the emerging underground. "SMILEY SMILE," a weaker version of Brian's original vision had been released and had flopped completely in the Summer of Love. A new L.P. "Wild Honey" was recorded in Brian's home studio using the group as the recording musicians and a great new single, "Darlin'" was about to be released. It was sink or swim time, and Brian's messengers had to stay cool and really deliver onstage. Their sense of confidence and fun really connected with the audience and the group survived against all odds. As a bonus, several radio spots recorded in march of '66 are also included in this set!! COW-A-BUNG-A!"
RICHIE UNTERBERGER'S REVIEW
SMILESHOP DISCUSSION
SHUTDOWN VOL. 2 DISCUSSION
Trackback address for this post
No feedback yet

Comment feed for this post