Doug Randle: "Songs For The New Industrial State"
By DJ M on November 6th, 2008
In Miscellaneous Music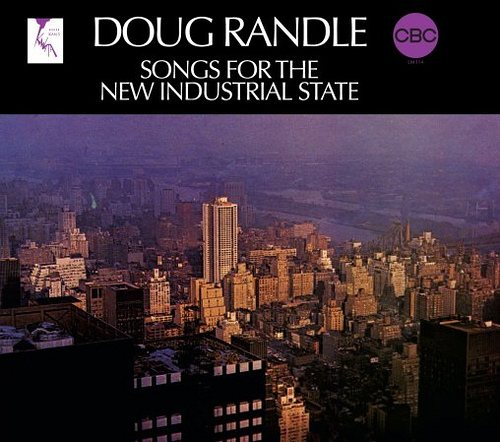 "A stunning collection of new songs for and about the time we live in," billed the text on the backside of composer Doug Randle's 1971 LP "Songs For The New Industrial State"
LIGHT IN THE ATTIC does it again. Another killer re-issue of a previously obscure vinyl treasure. Doug Randle's "Songs For The New Industrial State" is set for re-issue sometime in 2009. I'm listening to a stream of the album for the first time as I write this note. "Songs For The New Industrial State" is really growing on me as each track floats by. This album is right up my alley: elaborately arranged harmony vocals joined with strong pop/rock/funk tracks recorded by crack studio musicians.
Canadian Doug Randle is a totally new name to me, but I'm looking forward to getting to know him better over the coming months. LITA's promo blurb hits it on the head: think David Axelrod crossed with the Free Design. It's that good. Randle described this LP as "my bitter and twisted Simon & Garfunkel songs." Some of the lyrics are pretty out there for pop music. "Coloured Plastics" is about exactly that: plastics. Try these lyrics on for size: "Coloured plastics / stronger than steel / why do they always break when I need them?" Oddly inviting when sung in harmony. I will definitely buy "Songs For The New Industrial State" when it's released.
Vocalists include: Tommy Ambrose and Laurie Bower (Billy Van Singers, Mutual Understanding, Laurie Bower Singers)
Musicians include: Moe Koffman, Peter Appleyard, Rob McConnell, and Guido Basso
Track Listing:
Isn't It A Pity
Coloured Plastics
One-way Swimming
Nicolston Dam
Batteries Not Included
Warm in the Sunshine
Martin Of Her Mind
Friend Of Mine
Song For The Middle Ag-ed
Vive La Company
Life Will Be Worth Living
Trackback address for this post
2 comments
thanks for the post!!!
this is coming out on CD late january 2009 (and on itunes mid-jan). check www.lightintheattic.net for more info.
sip
toronto
*doug is a canadian composer who started playing jazz in canada in the late 40s/50s, continued on as an arranger in europe in the 60s, returned to canada by the early 70s where he was a house composer/conductor/arranger for the CBC (canadian broadcasting corporation)... he also did scores for pioneering NFB animation shorts and worked w/ numerous pop/rock acts over the years... songs for the new industrial state is his masterpiece and very relevant today...
11/17/08 @ 11:00
Comment
from: Matt [Visitor]

Songs for the New Industrial State can be heard on lala.com - a pretty awesome site.
01/14/09 @ 10:26

Comment feed for this post