Legendary Beach Boy Founding Member Al Jardine Signs Exclusive Booking Agency Representation with Entourage Talent Associates, Ltd.
By DJ M on April 27th, 2006
In Brian Wilson/B. Boys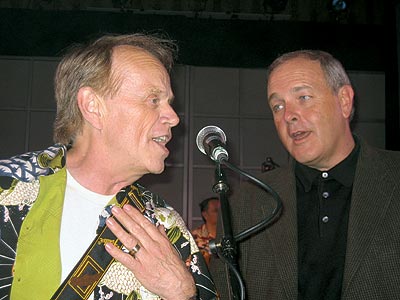 BUSINESSWIRE Famed rock and roll icon AL JARDINE, a founding member of The Beach Boys who has expanded his creative scope in recent years to include literary and film endeavors, is excited to announce that he has signed an exclusive booking agency deal with Entourage Talent Associates, Ltd.
Entourage Talent owner, principal and entrepreneur Wayne Forte has been a well-respected music industry veteran for over 30 years. "We are delighted to add someone of Al's stature to our growing and thriving roster of artists," he says. "As well as being an integral part of rock and roll history, he continues to be a vibrant performer, full of fresh and wonderful creative ideas which are taking him beyond the scope of the music business."
On the management side, Jardine is currently a key part of an exciting growing roster of clients at Los Angeles based Edge Management, which was formed in late 2005 as a merger between music industry veterans Jake Hooker and Diversified Entertainment Properties. Drawing upon their vast creative and financial resources, Edge is helping Jardine create a branding for his name that goes even beyond his status as a rock legend.
Jardine is currently creating an animated feature film based on his popular 2005 children's book "Sloop John B: A Pirate's Tale." He is also negotiating branding opportunities with various national lifestyle product companies. These endeavors draw upon his identity with his legendary band to create a branding presence for Jardine for a whole new generation.
In the area of promotions, Jardine recently teamed with MOPAR ("Motor/Parts"), The Cannery in Las Vegas and Fender Guitars for a branding campaign on behalf of the national automotive organization.
"We're really thrilled that Wayne Forte has decided to represent Al, as I have huge respect and admiration for Wayne, who has done so many wonderful things for his clients in the past," says Hooker.
Trackback address for this post
No feedback yet

Comment feed for this post