LiveAid - July 13, 1985
By DJ M on July 19th, 2006
In Brian Wilson/B. Boys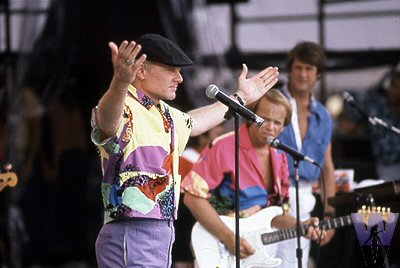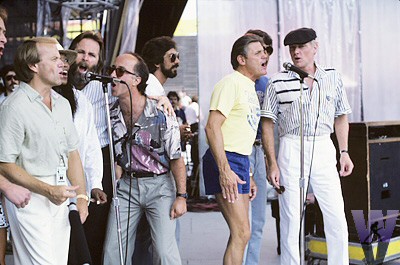 Both of these pictures are supposed to be from LiveAid. If so, then why do Mike & Al have on different clothes in the different pictures? Costume change? Mix-up on dates of pictures?
Trackback address for this post
4 comments
The BBs are backing up REO Speedwagon on the lower photo, which was before their own set (as I recall). Mike and Al hadn't changed into their stage outfits yet.
07/19/06 @ 22:44
Comment
from: Matt Howlett [Visitor]
I believe you can buy this LiveAid concert. It's about $30, but worth it for it being one of the most important rock festivals since Woodstock.
07/20/06 @ 14:14
the second is from july 4th 1985
08/22/06 @ 08:53
Comment
from: Geoff [Visitor]

First, I am fairly certain the top and bottom photos are not from the same show, since there is an obvious difference in Mike's skin tone, and the mic stands are silver in the bottom photo, and black in the top photo.
Second, I was at the National Mall in Washington DC on July 4th, 1985, where the Beach Boys played that day. REO Speedwagon was not on the ticket there that day. I didn't see REO live till about 2o years later, in NY. However, 9 days later, on July 13th, 1985 they stopped in Philadelphia to play at the US Leg of Live Aid. They performed two of their songs featuring members of the Beach Boys and Paul Shaffer (of Late Night with David Letterman, left center of the bottom photo, in gray slacks).
I feel confident the bottom photo is from the July 13th show in '85, but the top photo just seems more recent. (were there wireless mics in '85?) I could be wrong on the top photo.
07/20/09 @ 16:12

Comment feed for this post