Marsland's Chaos Band Pays Tribute to Carl & Dennis Wilson
By DJ M on May 17th, 2006
In Brian Wilson/B. Boys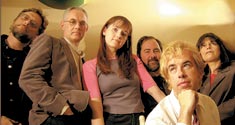 CLEVELAND FREE TIMES Adam Marsland, who formerly fronted power-pop ensemble Cockeyed Ghost, and his Chaos Band (bassist Teresa Cowles, keyboardist John Perry, drummer Kurt Medlin and lead guitarist Evie Sands, a recovered legend who had several mid-charting records in the mid-'60s) are taking a Carl & Dennis Wilson tribute show on a 10-date Midwest tour,
"I started doing these shows to show off my ability as an arranger and get something going that was interesting with other players I knew. It was basically just for fun and to show off/challenge ourselves," explains Marsland
"It had always been in the back of our minds that Carl and Dennis were good candidates for this because the music's really difficult and no one had ever really done it," he explains. "There's a million people running around doing Monkees covers or Beatles or whatever."
Trackback address for this post
1 comment
Comment
from: GARY MORRILL [Visitor]

I was a young kid when i heard my first beach boys song.
And from there i started to sing the tunes of some songs of the beach boys.
When i heard the dennis past away in 1983 i was sad and i prayed for the family and in 1998 another Great Beach Boy Past away i couldn't believe it.
My prayers went out to the family again along with with the beach boys. GOD BLESS YOU ALL.
12/29/08 @ 03:01

Comment feed for this post