"Sweet Insanity" Is A Lost album that should remain lost?
By DJ M on November 25th, 2008
In Brian Wilson/B. Boys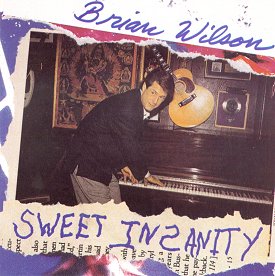 SF WEEKLY "Brian Wilson, 'Sweet Insanity.' Forget 'SMiLE.' The real curio locked away inside the lab of the Beach Boy boffin is this 1991 solo album, the culmination of Wilson's unethical business partnership with his psychologist, Eugene Landy. From the mid-'70s to the early '90s, Wilson was under Landy's meds-induced spell. They wrote dozens of songs together, while Landy bled Wilson out of millions in therapy fees. 'Sweet Insanity,' the pair's would-be opus, was a stab at updating the Beach Boys' sound in the age of Bel Biv DeVoe. 'Smart Girls,' the proposed first single, featured a handful of classic Beach Boys songs chopped and looped around a new jack beat. The only surviving trace of the album is a promo sampler hastily sent to radio before Wilson delivered the final master tapes to his label. After Sire swiftly rejected the work, Landy was hit with a restraining order filed by Wilson's family and promptly lost his practitioner's license. It would take another decade for Wilson to see Landy as the shyster he was. Sweet Insanity or mere stupidity? Luckily, it's a question we'll never have to grapple with."
Trackback address for this post
1 comment
Comment
from: dutchie [Visitor]

i heard that the master tape was stolen. I heard a boot in A sound quality and i think its betten than GITMH from a few years back.
11/30/08 @ 12:54

Comment feed for this post