The Brian Wilson interview
By DJ M on June 12th, 2011
In Brian Wilson/B. Boys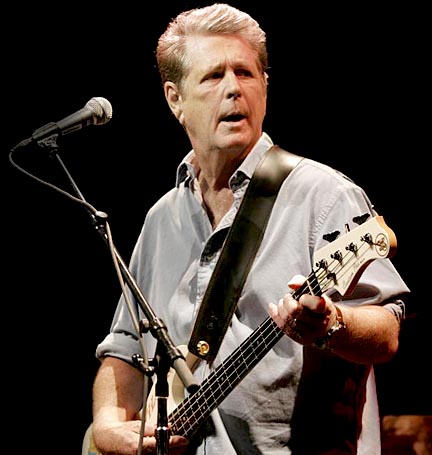 LONDON FREE PRESS Q: This is your first true Canadian tour. What took you so long?
A: I don't know. Who knows? The important thing is, we'll be there, right?
Q: And doing Gershwin. What did you learn from him?
A: He taught me a lot about harmony. And he taught me a bit about how to play the piano. Stuff like that.
Q: What made you want to reimagine his work?
A: Well, the Gershwin people asked if I'd do an album in his honour. I said I'd love to. So we took 25 songs he and Ira wrote and whittled it down to 12.
Q: What obligation did you feel to the music? What did you feel you could and couldn't change?
A: It wasn't a case of change for change's sake. It was a case of doing each one separately and appropriately. I honoured each song and treated it as if George was there to hear it.
Q: You also wrote two new songs from Gershwin's unfinished music. Was that also a matter of putting yourself in his shoes?
A: Yeah. We started with 104 unfinished piano songs. It was just a bunch of music he played all at once — different kinds of songs. And we dwindled it down to just two. We just took the chords and put melodies around the chords and put words to the melodies. That's it.
Q: After decades of playing your own music, what's it like to play someone else's?
A: Well, it's not just his music. It's our music now. It's like presenting his music through my music. It's Gershwin-Wilson.
Q: Are there other composers you want to reimagine?
A: No, not really. I think this sums it up, with George and Ira and me. I don't think there's anybody half as good.
Q: Who would you like to have reimagine your material?
A: Wow, good question. I have no idea. I wouldn't know.
Q: Is there nobody you think would be up to the task?
A: Not that I know of, no. Maybe Paul McCartney could do my songs. But I'm not sure.
Q: Why not?
A: Well, I haven't asked him.
Q: Of course not. But you think he has the talent, right?
A: I think he has the talent. But I don't think he'd be interested in doing McCartney Sings Wilson.
Q: Well, maybe you should ask him and see what he says.
A: All right, I will!
Q: What's this talk about you giving up touring?
A: That's not going to be real soon. I'll probably be touring for a little while yet. A couple of years at least.
Q: Is it still enjoyable?
A: I don't look forward to all that travel. That's hard. I just look forward to the audiences and how they clap and how they yell 'Hey Brian, we like your music!'
Q: You'll be turning 69 years old in Ottawa on this tour. What do you want for your birthday?
A: A cake. A chocolate cake with ice cream.
Q: After this tour, what's next?
A: It looks like we might be doing a rock 'n' roll album. We're going to do songs inspired by Phil Spector and Chuck Berry. You know how Chuck Berry goes: (starts singing) 'Hey baby, baby, baby, rock 'n' roll music.' And Phil Spector has the drumbeat and the good piano and guitar sound. So it's going to be that. Half will be original and half will be covers. How's that sound?
Q: Pretty cool. Where did that idea come from?
A: From me.
Q: Right. But where did you get the idea from?
A: From me.
Q: I know it was your idea. But were you reading about one of them, or listening to their music, or ... ?
A: No, I just thought, 'I want to do an album like Phil Spector and Chuck Berry.' And I'll be damned if we're not going to do it!
This interview is republished here: TORONTO SUN
Trackback address for this post
No feedback yet

Comment feed for this post