"The Wrecking Crew" Film Shown At SXSW
By DJ M on March 7th, 2008
In Brian Wilson/B. Boys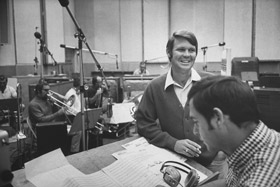 MSNBC "'The Wrecking Crew' looks at the session musicians behind some of the '60s biggest hits by bands such as The Beach Boys, Jan & Dean, Nancy Sinatra and The Righteous Brothers. Unbelievably, the same set of musicians played on almost every record. They included Tommy Tedesco, Hal Blaine, Carol Kaye and even Glen Campbell. Brian Wilson talks about their invaluable contributions to the seminal 'Pet Sounds' and Mickey Dolenz explains how they stood in for The Monkees. They were also Phil Spector's Wall of Sound crew. The documentary explores a subculture you may have never realized existed. Carol Kaye's story as one of the only female rock 'n' roll session players is one of the most compelling — the woman deserves her own film."
Trackback address for this post
3 comments
Comment
from: Dan Bohin [Visitor]

The Wrecking Crew...what a talented and timeless group of musicians. Just check out the liner notes on many of NANCY SINATRA'S albums and you'll see their names listed.
03/07/08 @ 17:19
Comment
from: Caryl [Visitor]

Where can I rent, buy or see "The Wrecking Crew" documentary?
03/10/08 @ 07:10
Comment
from:
Jonny Octane
[Visitor]

Hello! My name is Jon, and I am one of the producers of The Wrecking Crew documentary. The film is making the rounds of film festivals right now: in Buffalo March 24-29, and it will close the Nashville Film Fest April 24.
03/25/08 @ 20:29

Comment feed for this post