Beach Boys/Brian Wilson Promo CD Extravaganza Vol. 6: "Good Vibrations CD Single Deluxe Packaging"
By DJ M on July 18th, 2009
In Brian Wilson/B. Boys
Front of outer sleeve with inner sleeve inserted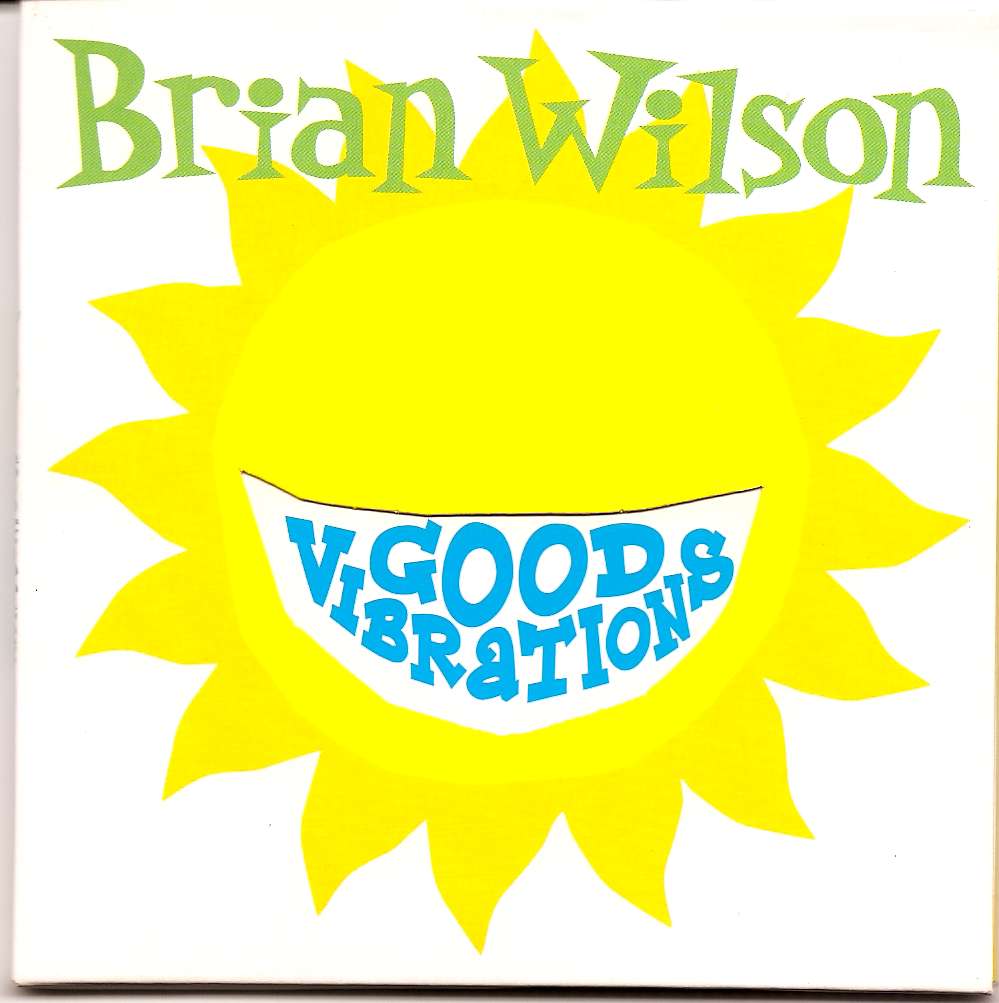 Front of outer sleeve without inner sleeve inserted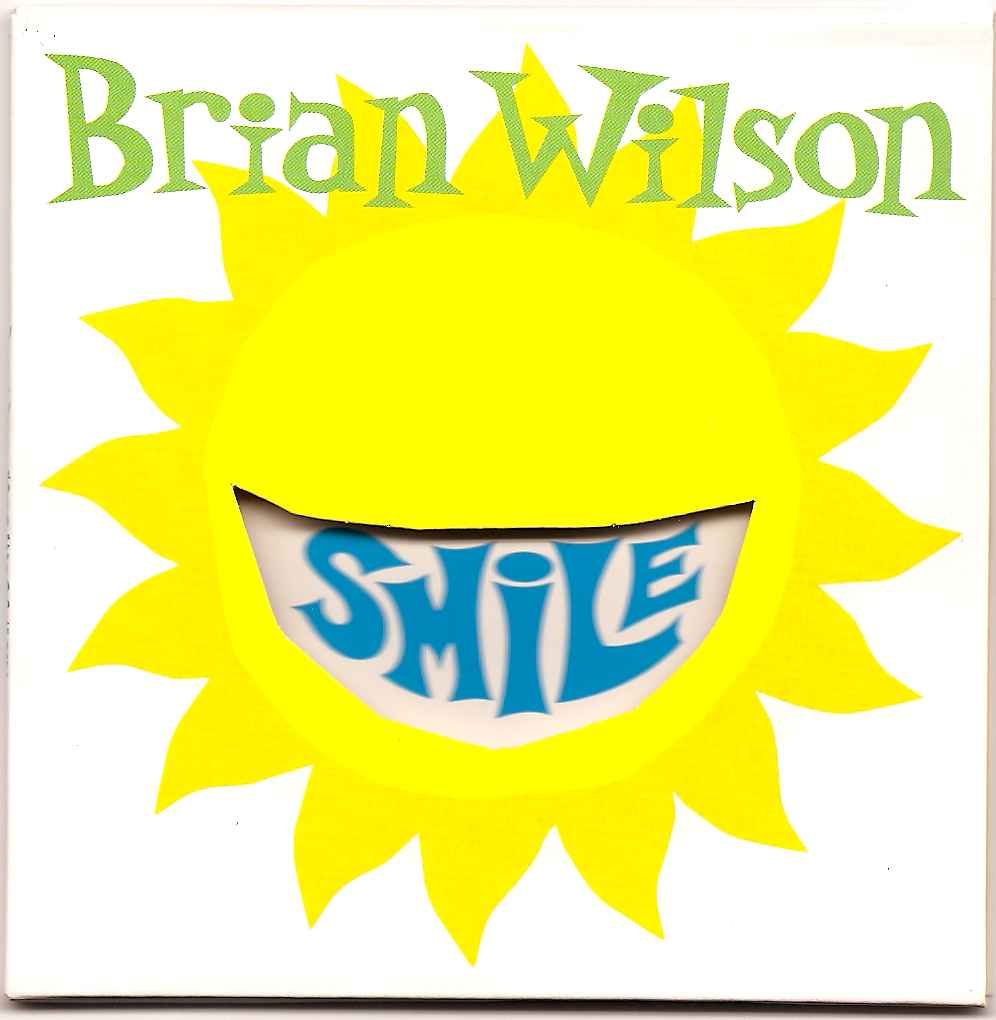 Back of outer sleeve with Swedish sticker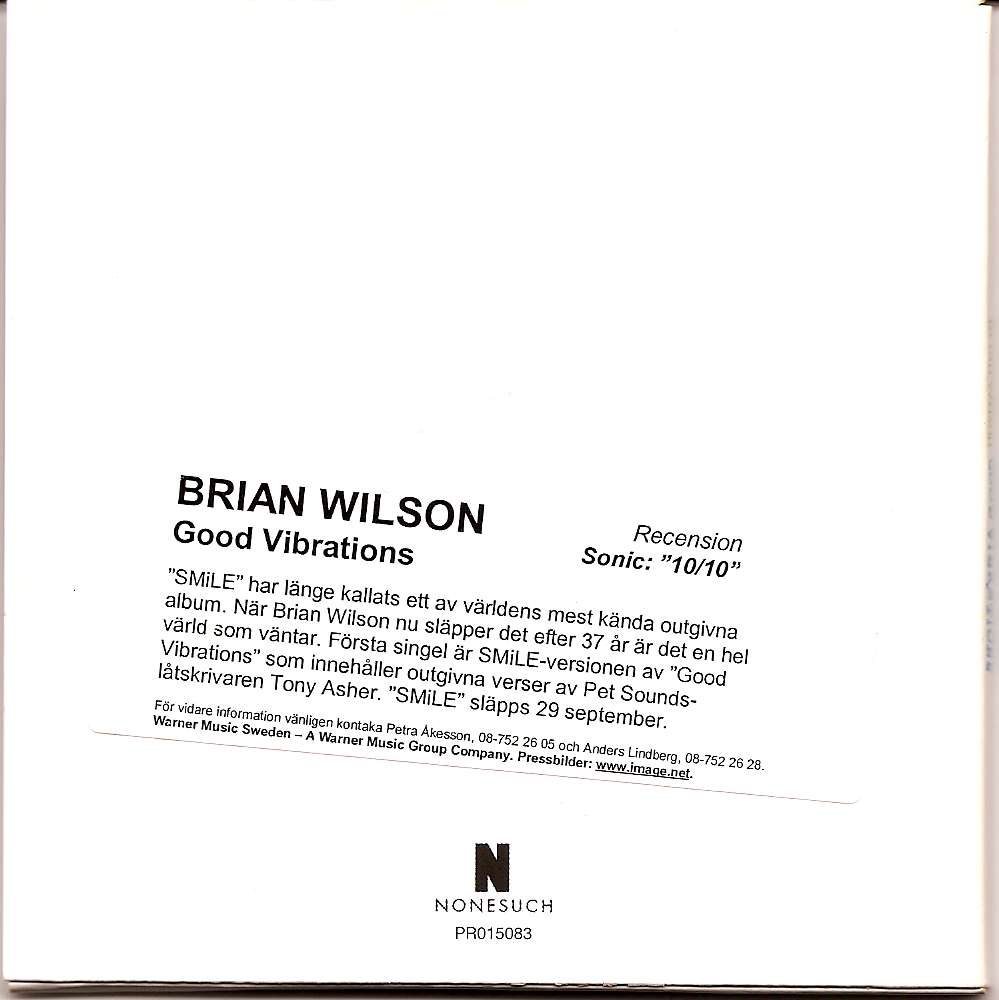 Front of inner sleeve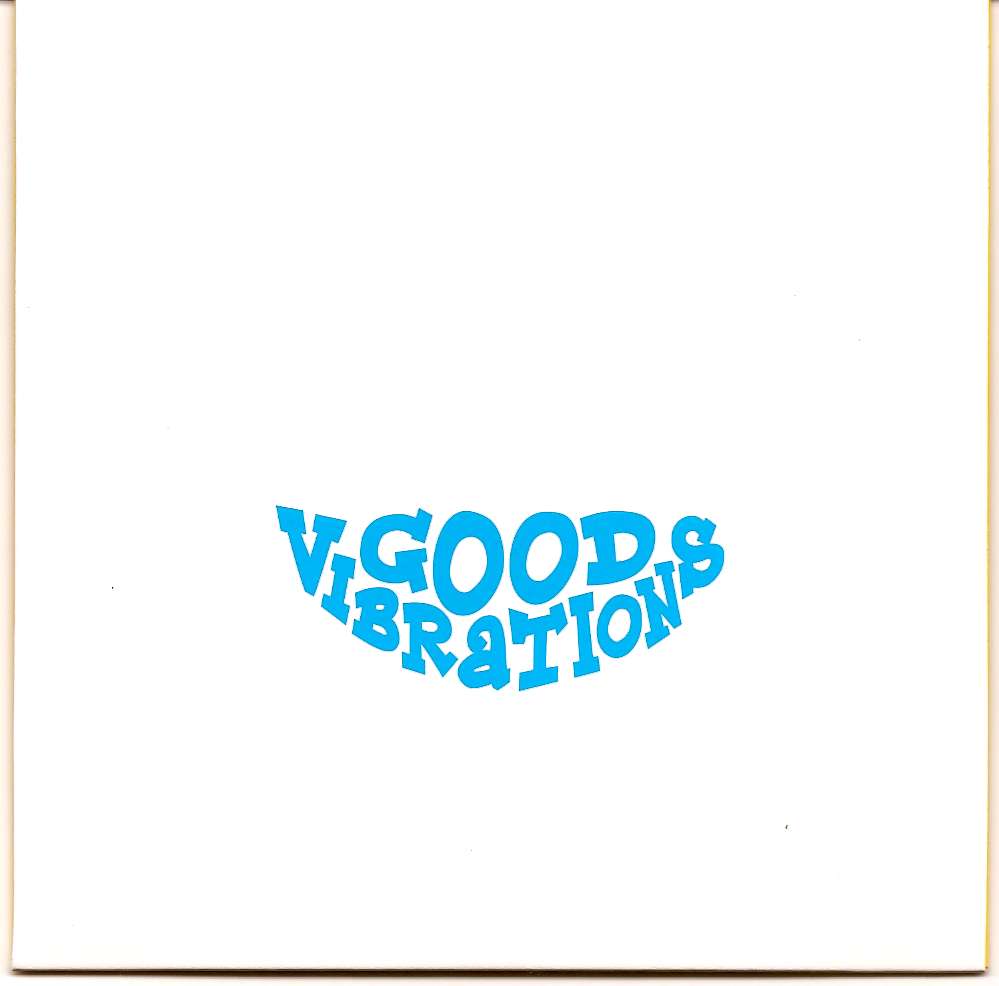 Back of inner sleeve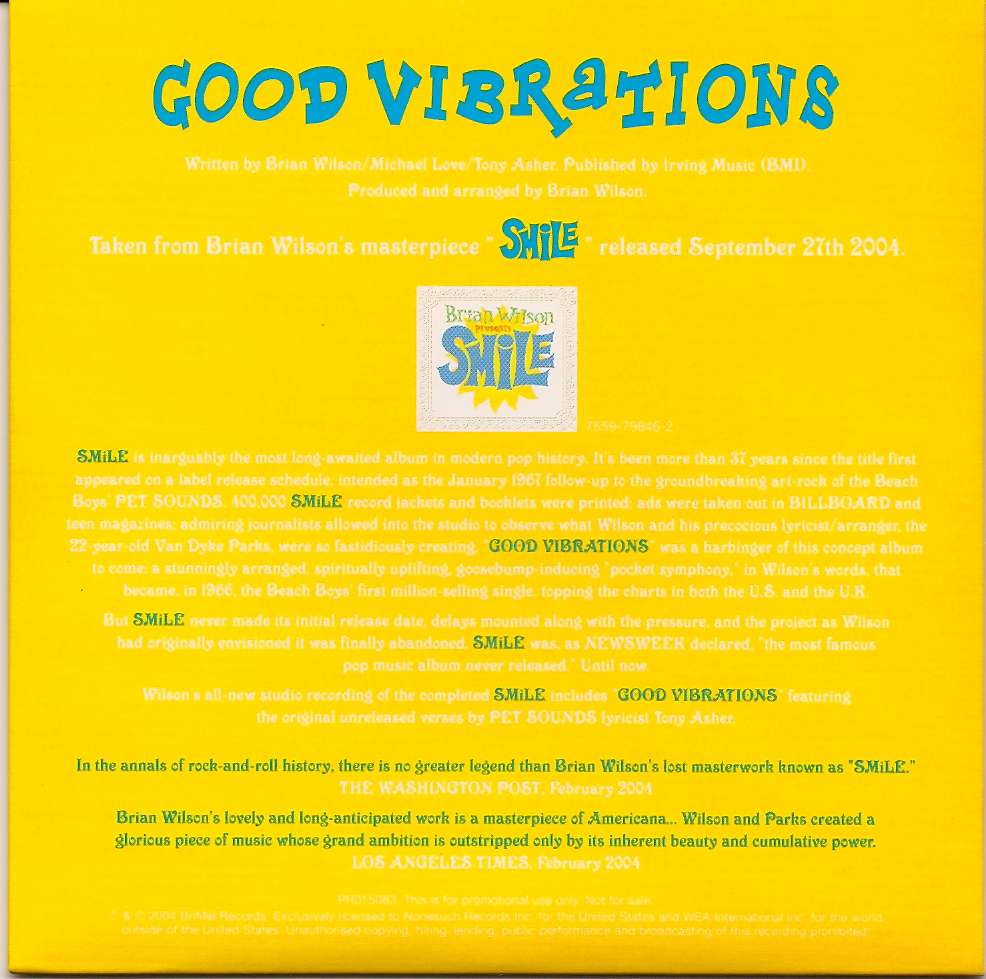 Top of disc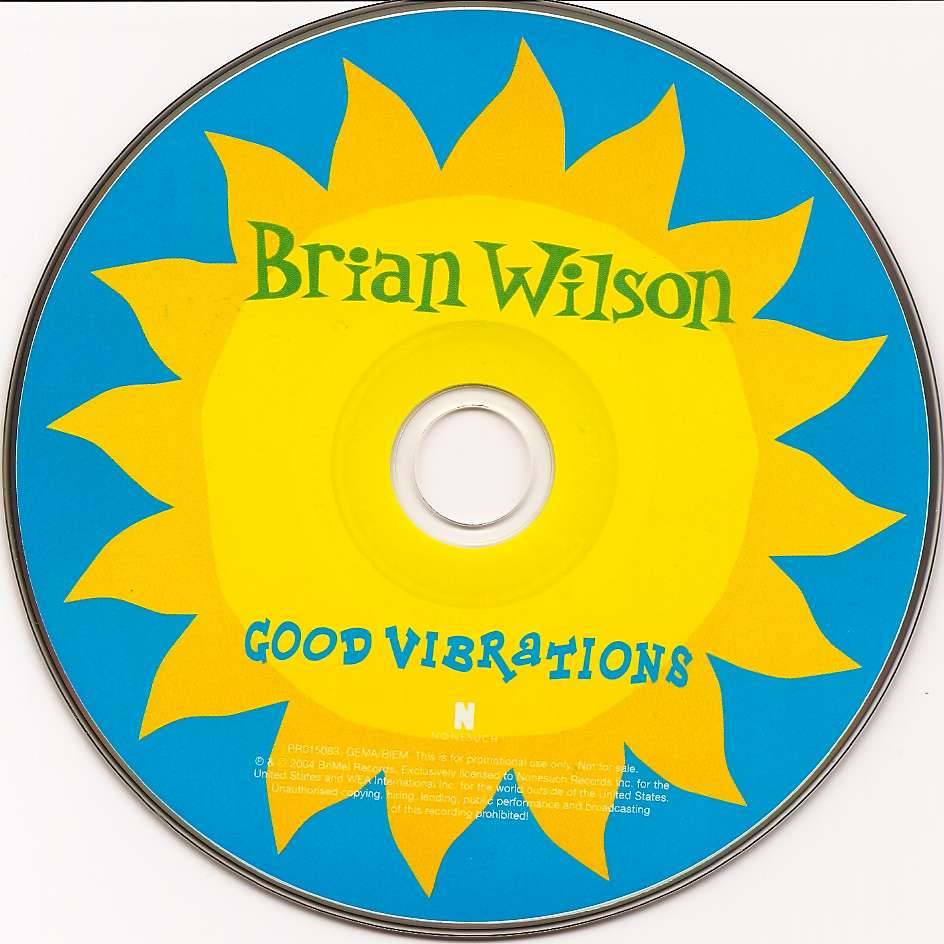 This CD single was pressed by Nonesuch to publicize the release of "Brian Wilson Presents SMiLE." It's a "silver" disc and not a CD-R. For a promo single it has fairly elaborate packaging. The disc slips into a two-sided card sleeve which then gets housed in it's own die-cut outer sleeve. The sun's smile is cut out which allows the words "Good Vibrations" to peak through when the inner sleeve is inserted. When you remove the inner sleeve you see that the word "SMiLE" is printed on the inside of the outer sleeve. A sticker with Swedish text is affixed to the back of the outer sleeve.
Most of the text on the back of the inner sleeve is difficult to read; the tiny white letters on a yellow background are hard to make out. Here's the text in a readable format:
Good Vibrations
Written by Brian Wilson/Michael Love/Tony Asher Published by Irving Music (BMI)
Taken from Brian Wilson's masterpiece "SMiLE" released September 27th, 2004
SMilE is inarguably the most long awaited album in modern pop history. It's been more than 37 years since the title first appeared on a label release schedule intended as the January 1967 follow up to the groundbreaking art rock of the Beach Boys' PET SOUNDS. 100,000 SMiLE record jackets and booklets were printed; ads were taken out in BILLBOARD and teen magazine; admiring journalists allowed in the studio to observe what Wilson and his precocious lyrist/arranger, the 22 year old Van Dyke Parks, were so fastidiously creating. "GOOD VIBRATIONS' was a harbinger of this concept album to come: a startlingly arranged, spiritually uplifting, goose-bump inducing "pocket symphony," in Wilson's words, that became in 1966 the Beach Boys first million selling single, topping the charts in both the US and the UK.
But SMiLE never made its initial release date, delays mounted along with the pressure, and the project as Wilson had originally envisioned, it was finally abandoned. SMiLE was, as NEWSWEEK declared, "the most famous pop album never released." Until now.
Wilson's all new studio recording of the completed SMiLE includes "GOOD VIBRATIONS" featuring the original unreleased verses by PET SOUNDS lyricist Tony Asher.
In the annals of rock-and-roll history, there is no greater legend than Brian Wilson's lost masterwork known as "SMiLE." THE WASHINGTON POST, February 2004
Brian Wilson's lovely and long-anticipated work is a masterpiece of Americana… Wilson and Parks created a glorious piece of music whose grand ambition is outstripped only by its inherent beauty and cumulative power. LOS ANGELES TIMES 2004
This is for promotional use only. Not for sale.
Trackback address for this post
2 comments
Comment
from: Mark London [Visitor]

Interesting- though they used my art, I did not design the package...when I did see it I thought they did a pretty cool little thing.
~ ML ~
07/21/09 @ 16:58
Comment
from: Mark London [Visitor]

I will say I didn't really like the lettering they used for "Good Vibrations" looked a little too romper room for me
~ ML ~
07/21/09 @ 17:01

Comment feed for this post